Meet Bishop O'Connoll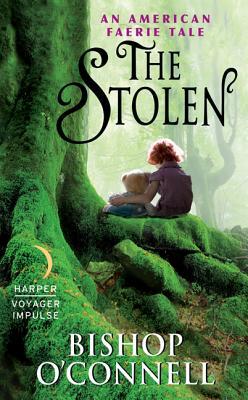 Today on the blog, I'd like to introduce you to Bishop O'Connell. He is a fellow author published by Harper Voyager Impulse. I decided to interview him and review his debut novel of my own accord and my opinion here is unbiased and honest.
To share a bit about Bishop, I can tell you that he is a consultant, writer, poet, blogger, computer geek, and member of the New Hampshire Writer's Project. He was born in Italy, but raised in San Diego, California. A perfect day for him involves a good pint, fish tacos and conversation with friends. He collects swords and kilts and has been known to wear only the latter in public—though I have a feeling he'd like to also wield the sword, if his debut novel, THE STOLEN, is any indication.
After reading his work, I can also tell you that he can write kick-butt action scenes, as well as lovable, less-than-perfect heroes that feel extremely real. You can read my short review on his novel on Amazon or Goodreads.

Now, let's learn a bit more about Bishop and his novel:

How does a day in Bishop's writing life look?
Well, it involves music, which is a must. I have playlists for all my projects that help get me into the right mental or emotional state, to really fall into the story. My writing days are usually long. It can take me a while to get into groove, sometimes an hour or so, but when I get there, I don't want to stop. I've had days where I crank out 10,000 words. It's just me, my music, some homebrewed iced tea (or if I need a jolt, some Mountain Dew), my computer glasses, and usually my lounge around the house kilt. Yes, I have a "lounge around the house" kilt, every man should.
How did you come up with the idea for The Stolen?
It started with W.B. Yeats poem "The Stolen Child" (which was originally the title of The Stolen). The poem makes the luring away of a human child by faeries seem magical and wonderful. However, I wondered about the parents of that child. It wouldn't be magical to them. Then I considered the faeries, and what kind of creature would lure a child away from her parents. From there, I considered how it would be if that happened in our world, where faeries, to most people, were just characters in Disney movies. It wasn't until I'd began promoting the book, and had time to really think about it, that I realized it was really a story about heroes, as you described them "lovable, less-than-perfect" but heroes all the same.
Is The Stolen your first novel? How long did it take you to write it?
It's my first published novel. I wrote a high fantasy first, it's actually part of a trilogy and I intend to rewrite it to fit into the American Faerie Tale universe at some point. That first book took me the better part of ten years to finish. In contrast, The Stolen went from short story to full novel in about three months. I was working part time and decided to make the most of my time off. Then I spent three years editing it and shaping it into what it is today.
I've read other books about the Fae, mostly YA, but I never encountered Fianna in them. Brendan, one of your protagonists, is a Fian and—although I have a good idea of what he is, I'd like to get the scoop from you? Do Fianna belong to any court? Are they another classification, like pixies? Or did you come up with Fianna? I should probably know this, but alas!
The Fianna are, for the most part, mortals. They're sort of the Batman of the faerie world; they train to be as strong and fast as mortals can be, and protect mortals from faeries. They do know magic, which extends their life spans, but Brendan is the exception. His parents did something —though no one but them is certain exactly what— to make him stronger, faster, and very long lived. It was all with the best of intentions of course, but, well, the first chapter of The Stolen tells you all you need to know about the downside of what they did. In terms of the Fianna's place, they are members of the Cruinnigh (Irish for "council") which is, not to give away too much, a council of various supernatural creatures. The Fianna were granted a place on it because of their interaction with the far and other beings. As a teaser of what's to come in future books, some other members are: The Aboriginal (Native American and Aboriginal Australian spirits), The Elemental Lords (yes, exactly what you think), The Celestial (use your imagination), and The Dracos (yep, dragons). And though the last three haven't been heard from in a long time…
Rapid Fire Questions
Kilt or Pants?
Sorry, is there a real question here? Kilt, of course!
Favorite beer?
That's tough. Guinness, of course, is right up there. However, when I was living in England I fell in love with cask ales, or Real Ale, Theakston being my favorite.
Video games or board games? (I've read you're a gamer)
I like board games, but the computer geek in me loves computer games. I never got into first-person shooters though.
Why "A Quiet Pint"? (This is name of Bishop's website)
In Ireland there is something called the craic. It's hard to define, but it's basically socializing, talking, gossiping, storytelling, and just enjoying others' company. I've never liked loud bars or clubs. I prefer a nice quiet pint with some friends, old or new. Nothing goes better with a pint than the craic.
Thanks for this, it was a lot of fun!