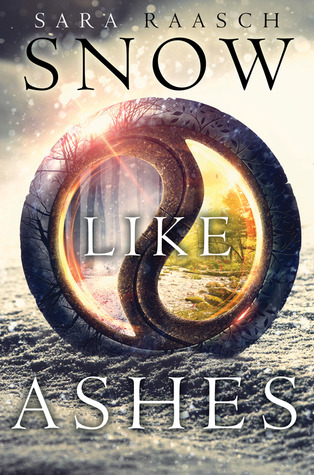 Today on the blog I have author Sara Raasch. She is the genius behind the YA fantasy novel SNOW LIKE ASHES and I have a feeling we will be hearing lots from her in years to come. I'm taking a cue from all the readers already demanding the sequel to SLA, her debut novel. You can read my short review of her novel on Amazon or Goodreads.
To tell you a bit about Sara you should know that if she ever tries to sell you lemonade, you should be prepared to also buy cute picture books of her creation (I doubt she's changed her ways since, at five years old, she tried to do just that at her friends' lemonade stand.) She names her pets after fictional characters, is obsessed with the TV show Lost Girl and would love for Ksenia Solo to play the role of SLA's protagonist, Meira. Currently, she's working on book#2 and book#3 of the Snow Like Ashes trilogy, so don't despair. It is coming!
Ingrid: Hi, Sara! *waves across the inter-space*
Sara: *waves back*
So glad to have you on my blog. I'm curious about a few things, so here it goes:

As an author, I'm always curious to learn the way other writers go about their craft. Tell us, how does a day of writing look for you? And what makes a writing day IDEAL?
I'm usually a morning writer. I get up, check social media, then spend the hours until lunch writing/drafting/editing/whatever I need to be doing. The afternoon is spent either doing more writing things (if I'm on a roll) or doing marketing stuff. This is an example of an ideal day—of course, not every day is so productive. Sadness.
Sounds like tons of fun. I love SLA's Sir, can you tell us how you go about crafting such a strong fictional character?
Writing Sir was a continually surprising process. He's very, shall we say, layered, even to me, so to find out what makes him tick, I had to really dig into his backstory. Why did he and Alysson get married? How did they meet? What was his relationship with Queen Hannah? How does he feel about Winter's fall (beyond the expected anger/sorrow)? And, most importantly, why does he keep Meira so distant? The answers to all these questions were surprising and heartbreaking, and I'm so excited to get to share them with everyone in books 2 and 3!
Most of writing, for me at least, is just asking questions!
I love to hear that. Can't wait to read! Winter always gets a bad rep, are you trying to change that?
I am! One of my reasons for wanting to write this story at all was to cast winter in a good light. So often it is evil and spring is good, and I wanted to flip that. Down with spring! Bugs and dampness and allergies—ew.
Yes! I hate allergies! We heard very little from the Summer kingdom. Will we learn more about it in the next two books?
Oh yes! The Kingdom of Summer is actually a HUGE part of Book 2. Their princess, Ceridwen, becomes integral to the story and Meira's life. She's one of my favorite characters—think Meira's snark, but meaner. Ceridwen tells it like it is.
Oh, my! Meira is a pepper, so I can't even imagine Ceridwen. Do you have any other series planned for the future?
I have a few things in the works, but nothing set yet. The SNOW LIKE ASHES trilogy is the center of my little world right now!
Rapid Fire Questions

Plotter or Pantser?
Plotter! Pantsing in the fantasy genre is nigh impossible.
Favorite thing about being an author?
Readers! Meeting them, interacting with them. They are the BEST!
Coolest compliment from a reader?
At one of my tour stops, a reader showed up dressed in green and gold—the colors of Cordell. SO cool to see that!!
Would you consider writing in other genres? If so, which ones?
I would like to! I have an idea for a sci-fi novel, so hopefully someday!
Snow Like Ashes is an amazing read! Seriously, every self-respecting YA reader out there should check it out!



Bio:
Sara Raasch has known she was destined for bookish things since the age of five, when her friends had a lemonade stand and she tagged along to sell her hand-drawn picture books too. Not much has changed since then — her friends still cock concerned eyebrows when she attempts to draw things and her enthusiasm for the written word still drives her to extreme measures. Her debut YA fantasy, SNOW LIKE ASHES, the first in a trilogy, comes out October 14, 2014 from Balzer + Bray. It does not feature her hand-drawn pictures.
read more
1 Comment